Specialised Industrial Solutions, Designed to meet your Specific Application
Lifting, pushing, pulling, lowering, weighing, tilting or horizontal movement; whatever direction your project moves in, we move with you. With Industrial Solutions we present you with a selection of results-oriented custom made high-pressure hydraulic solutions for industrial use.
Allow us to inspire you, watch the video and challenge us to come up with a solution for your specific problem:
Click Here to Download the New Industrial Solutions Catalogue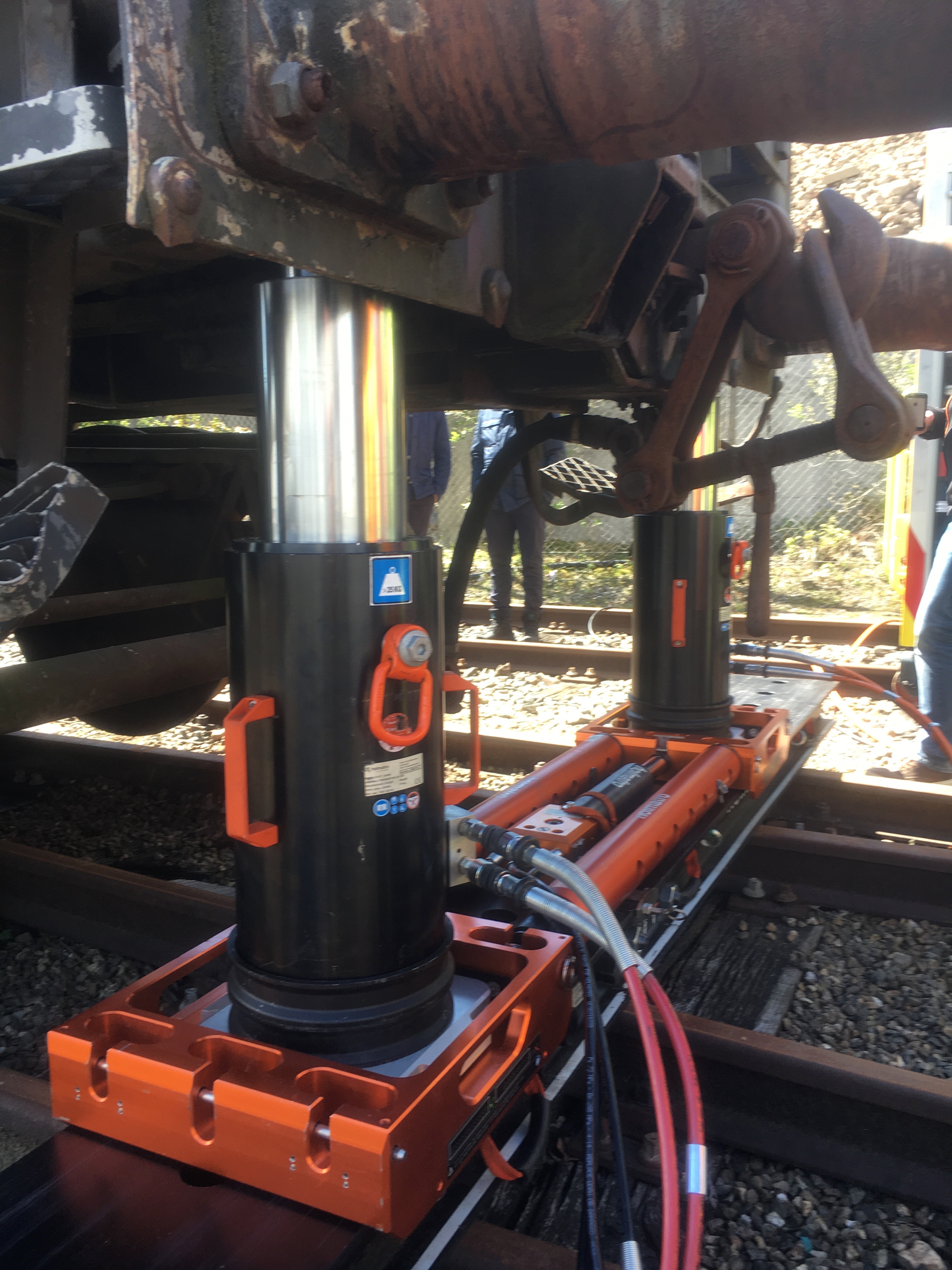 Holmatro Lightweight Rerailing Systems offer a solution for faster, safer and a more controlled method of rerailing railway vehicles back on the tracks. Thanks to the user-friendly design of the system, the lightweight components are easy to place, assemble and disassemble by one person without the use of extra equipment. This ensures business continuity by greatly reducing delays and costs.
Every rerailing application is different, and so is every budget. That's why Holmatro offers 3 defined sets, each one suitable for different circumstances. If a set almost suits your needs, but a slight change would make it more perfect, changes can easily be made by simply contacting us to discuss your specific requirements. You can also customize your own Rerailing System to your particular circumstances. The choice is yours !
Click Here to Download the New Rerailing Brochure
Click Here to Download the Complete Industrial Solutions Catalogue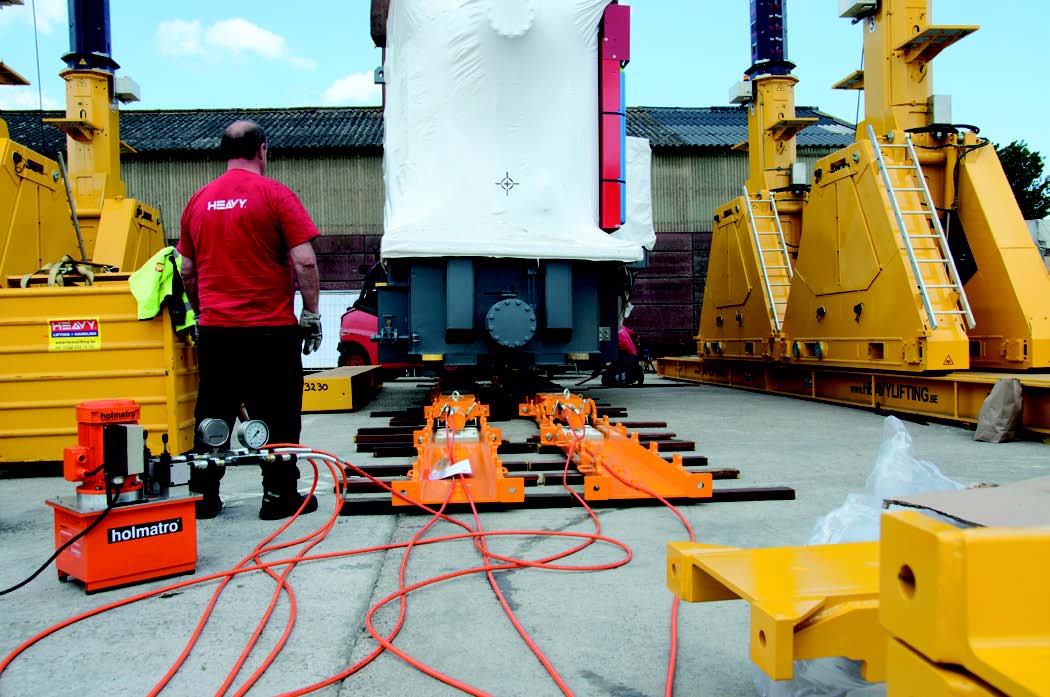 Holmatro's Skidding Systems are suitable for moving industrial objects and installations with exceptional sizes and weights to locations where using a crane is not an option. Due to the user-friendly modular construction of both systems, they are easy to adapt to each load size and project.
Holmatro offers two modular Skidding Systems. An extremely LIGHTWEIGHT system for loads up to 200 tons, and a STANDARD system for loads up to 400 tons (assuming two skidding units are used). The 200-ton Skidding System has an exceptionally low construction height and consists of lightweight components, which makes it easy to use without the help of additional lifting equipment, such as a forklift trucks. This lightweight system is suitable for moving objects when there is limited insertion space. The 400-ton Skidding System is extremely strong, and suitable for moving very heavy objects, such as transformers. The skidding capacity and control can be customized to client specifications. Click on the images below for more information.
Click Here to Download THe New Skidding System Brochure
Click Here to Download the Complete Industrial Solutions Catalogue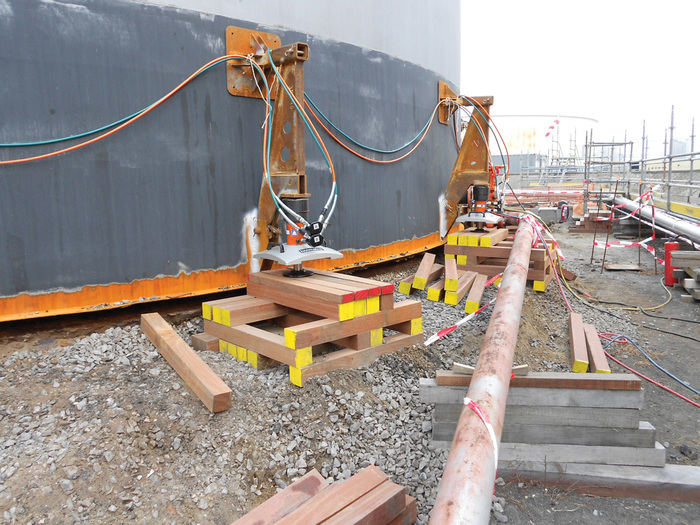 Some industrial lifting applications require a longer cylinder stroke to lift the load to the required height. Because of the direct relationship between the stroke length and the closed height of a cylinder, this requirement is not always possible with a standard cylinder. These situations need a special solution for safe and correct lifting; the Holmatro Step Cylinder Set.

Step Cylinder Sets, with a capacity of 25 to 150 tons are fitted with a step plate and a plunger with a stroke length varying from 125mm to 200mm. It also has an enlarged saddle in order to protect the plunger. & stabilise the load The cylinder moves upwards with the load which increases stability during lifting. Large objects, such as oil tanks and transformers can be lifted with the aid of Step Cylinder systems. All of this takes place without the use of a crane.

Click Here to Download the New Step Jacking Brochure
Click Here to Download the Complete Industrial Solutions Catalogue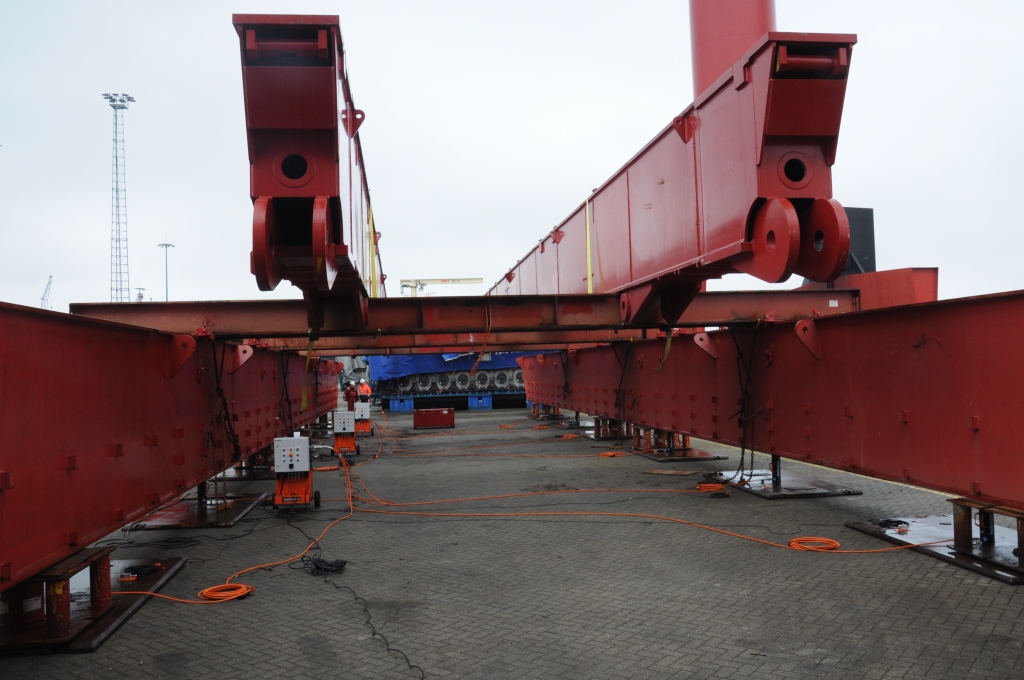 Computer-controlled synchronized positioning of heavy loads with a low risk of damage, has never been so easy with the Holmatro Synchronized Positioning System. Because of the use of multiple-split-flow pumps, each lifting point has its own single oil flow, whereby the load can be positioned smoothly and with extreme precision. Click on the image below for more information
Click Here to Download the New Synchronised Lifting System Brochure
Click Here to Download the Complete Industrial Solutions Catalogue